A Custom Experience
For those seeking a more detailed experience, Mr. Derk offers made-to-measure services in our tailored clothing. This includes suits, jackets, trousers, overcoats and dress shirts, as well as tuxedos and formalwear. Make an appointment with one of our specialists.
Book an appointment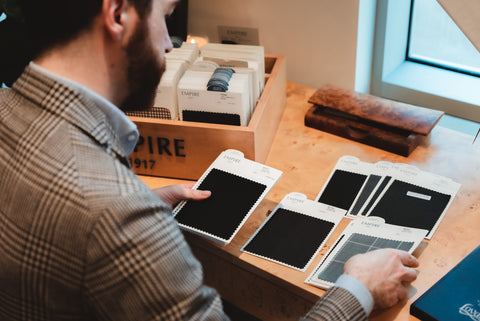 Our Process
Unlike measurements and numbers, the garments we make are three-dimensional. The fit of clothing is actually greatly influenced by how it has been ironed and how it will be altered in the future. Comparing numbers on a chart will never be as useful as trying something on yourself. As we work with many tailors and artisans, we have a wide assortment of styles and fits so we can make the perfect garment for your needs and desires.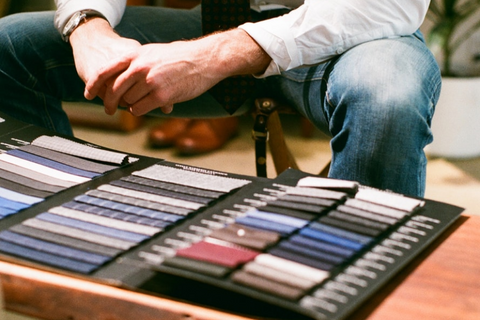 Finding the right fabric
Our job is to provide you with a refined number of options based on the purpose of your garment. We offer a curated selection of premium cottons, linens, and wools from some of the best mills in the world.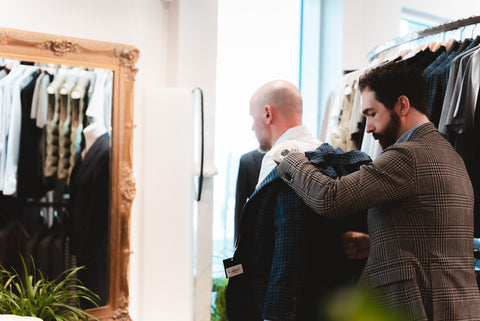 Your perfect size
A large part of our success comes from our attention to detail and patience while measuring. As a result of our years of experience, we have developed and honed a precise measurement process that includes body tape measuring, allowances, and in some cases, guide garments. In this way, a far more customized fit is achieved than with traditional made-to-measure methods.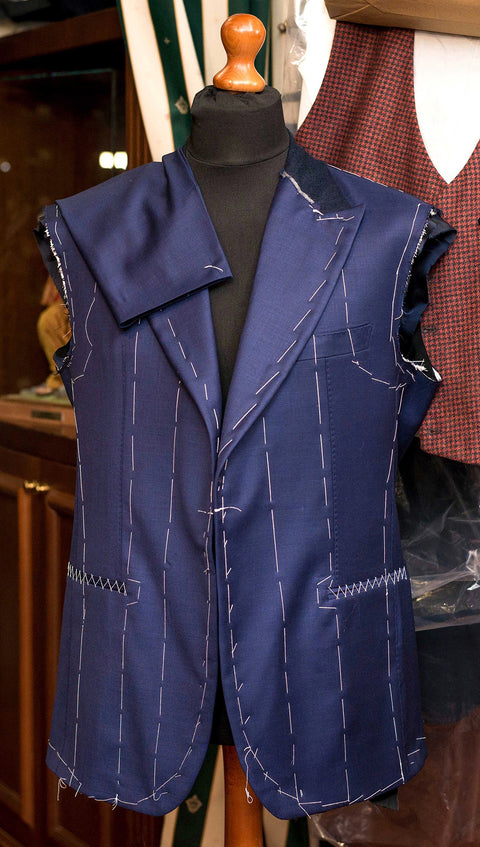 Made to Measure
We use those measurements to create an ideal pattern just for you – in fact, we'll keep it on file for simple reordering.
Assembly
Using the pattern we have developed for you, our manufacturers meticulously assemble your garment and incorporate the details we have selected with you such as lining, buttons, trimming, and construction notes.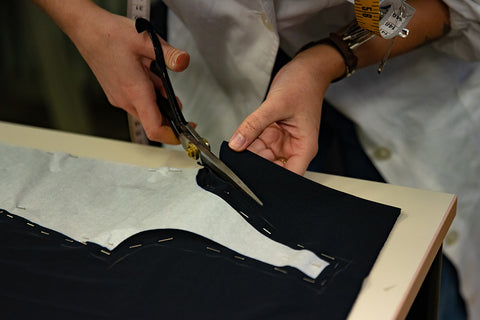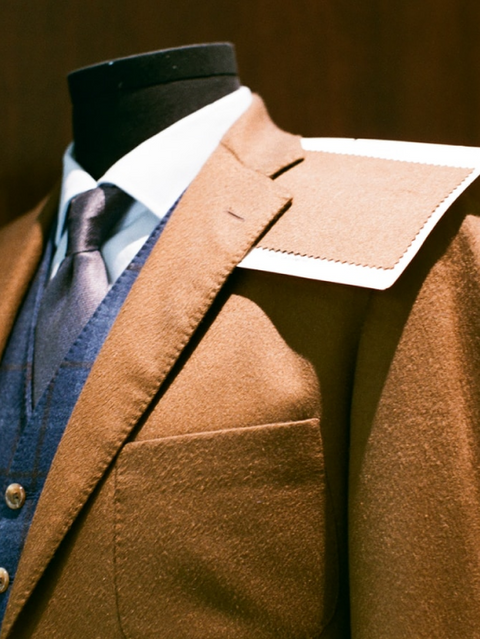 Triple Checked
Your finished garment is checked (and checked and checked) against the pattern and your measurements, first on the line, then at inspection, and then again in-house at Mr. Derk.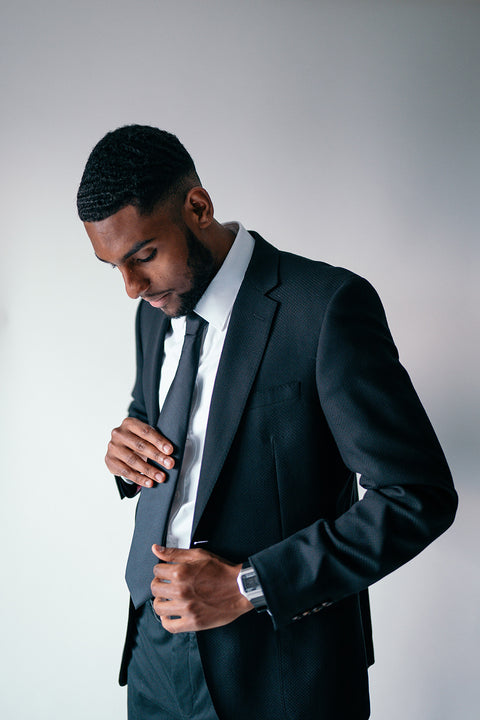 Your Perfect Fit
We fit the garment on you, cut, and trim the final details to ensure it is exactly what you want out of the piece. From there (we hope) you'll love it and hang it in your closet... or, better yet, put it on right away.
Frequently Asked Questions
What should I have prepared for my appointment?
Before you can begin selecting your components, it is important to establish the purpose or vision for this garment. What is it you hope to find? When will this garment be worn? Do you have a budget and timeline to work within? This information allows the associate to best align your expectations and needs with the garment.
How do I know which brand to choose?
Our specialists will assist you in selecting the best-fitting garment to your body type, budget, and timeline within our available brand selection.
What adjustments can I make in terms of fit of my garment?
The adjustments you can make to the garment silhouette depends on the brand and program you select. Some programs only offer new fabrics in their pre-existing silhouettes, while others range with more flexibility in adjusting the silhouettes. These specs include shoulder construction, sleeve length, drop, jacket length, and pant rise.
What options can I customize in terms of styling details on my garment?
Some brands offer only a limited number of changes to be made to the garment. While some brands offer much wider specifications to be changed. Details such as lining, buttons, thread, monogrammed labels, pockets, and many more to make the garment unique and special.
Do I pay for the entire garment up front?
In order to place your order, we require a 50% deposit of the garment price and will then follow-up with you once it has been confirmed with a delivery date. The balance is due when your piece arrives and has been through its final fitting.
How long does it take to get my garment?
The average turnaround for a made-to-measure garment is about 8-10 weeks. If you have a more sensitive timeline, we offer a program from Jack Victor that can be turned around within 14 days. When your piece arrives, you can come into our shop for your final fitting and have the finished product within a couple of days. Delivery times may vary.